ZombieDisco
GET READY TO DANCE!
DESCRIPTION
This game was made to participate in the CPC Retrodev 2022, and it is our first game for the Amstrad CPC computer.
You play as Disco Mike, who was having fun in the best disco of the city, when suddenly some zombies joined the party! Disco Mike won't let anyone ruin his night, even if they are zombies, so grab your vinyls, step on the dance floor and show them the moves.
To progress in the game, you will have to defeat rounds of dancing zombies by throwing vinyls at them, once you finish them all, you will step on to the next level.
HOW TO PLAY
This is an Amstrad CPC videogame. You can play it in a real CPC computer or using an emulator. We recommend Retro Virtual Machine (RVM) and Winape. Download the CDT file and run it to play.
CONTROLS
You can move Disco Mike all over the dance floor and you can also throw vinyls at the zombies with these controls:
O: Left

P: Right
Q: Up
A: Down
Space: Throw vinyl
If you prefer playing with joystick, we have implemented joystick controls as well.
You may download the instructions manual for more details about the gameplay.
AUTHORS AND LICENSES
This game was made by the @PandemixStudio team:
Ángel Robles González
Christian José Mira Castelló
David Costa Blanco
The game source code has a GPL license.
To make this game possible we used the following software:
Music used in the trailer: Mokka
INSTALL INSTRUCTIONS
How to run the game in a real Amstrad CPC
Load the cassette into the device, then type RUN"[ENTER] press play, then any key.
How to run the game using an emulator
You can play the game using any AmstradCPC emulator (WinAPE, RetroVirtualMachine...). Load the file ZombieDisco.cdt into the emulator, then type RUN" and press ENTER.

GESTURES
As CPCRetroDev 2022 was celebrating it's 10th anniversary, we included a little easter egg as a reference to Lárcena`s Legacy in the game. One of the enemies is very similar to the promotor, a character of the game.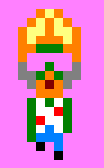 Comments
Log in with itch.io to leave a comment.
The hero is awesome. ooouuyeah!
Nice game ! I like shooting zombies.